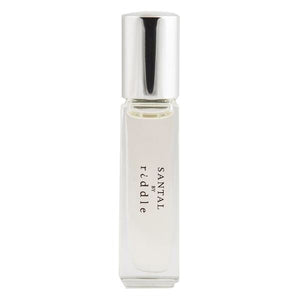 Santal Roll-On Oil 8 ML
Scent Profile - This spicy cardamom and sandalwood are the most present notes in this scent. Santal has been described as bold, crisp and woodsy.
Scent notes - Spicy Cardamom, Amber oil, Sandalwood, Orchid, and Cassis
These products are cruelty-free and vegan. They are also free of parabens, phthalates, formaldehyde and are non-toxic. Unisex  
Your fragrance oil will come in an 8ml stainless steel roll-on ball applicator bottle. This bottle is easy to use and great for traveling with. 
How to apply fragrance oils to your skin:

1.) Apply to your pulse points. These are the areas of your body that your heartbeat continuously warms. These areas include your wrists, side of your neck, inside of your elbow, back of the knee and breastbone. 
2.) Layer and keep moisturized. When using fragrance oil it is important to know that the oil will absorb into your skin and be less fragrant if it is applied to dry skin. Being well moisturized is very important when it comes to diffusing scent. It is even better to layer your scent with the same scented lotion.
3.) Dab, do not rub. When you apply your oil dab it lightly on the skin. When you rub oils too hard you break down the molecules that make up the scent profile and you lessen the scent.
---
More from this collection