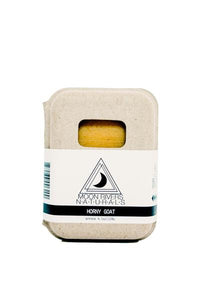 Horny Goat Soap
This sexy, earthy soap is a blend of organic, non-GMO oils and infused with a combination of horny goat weed, chamomile, calendula, and sunflower petals, some patchouli and cinnamon essential oils.  Horny goat weed is believed to increase a person's libido...
Approximately 4.5 oz  |  Vegan, Cruelty-Free, No Synthetic Additives or Preservatives
TO USE: Lather with water between hands and apply generously to face and/or body. Rinse off with water.
KEY INGREDIENTS
Red Palm: Rich in vitamin E, which penetrates deeply into the skin's layers to enable healing and protection from the base up. 
Horny Goat Weed: Improves skin health by stimulating blood flow. Besides being a natural aphrodisiac, it also boosts immunity.
Cinnamon: Antimicrobial properties that help heal skin conditions such as rashes, acne and infections.
INGREDIENTS: Saponified Oils of Coconut*, Olive*, and Red Palm*, Chamomile Flowers*, Horny Goat Weed*, Calendula Petals*, Patchouli Essential Oil, Cinnamon Essential Oil.
*Organic*
Handcrafted in Tyler, Texas 
---
More from this collection